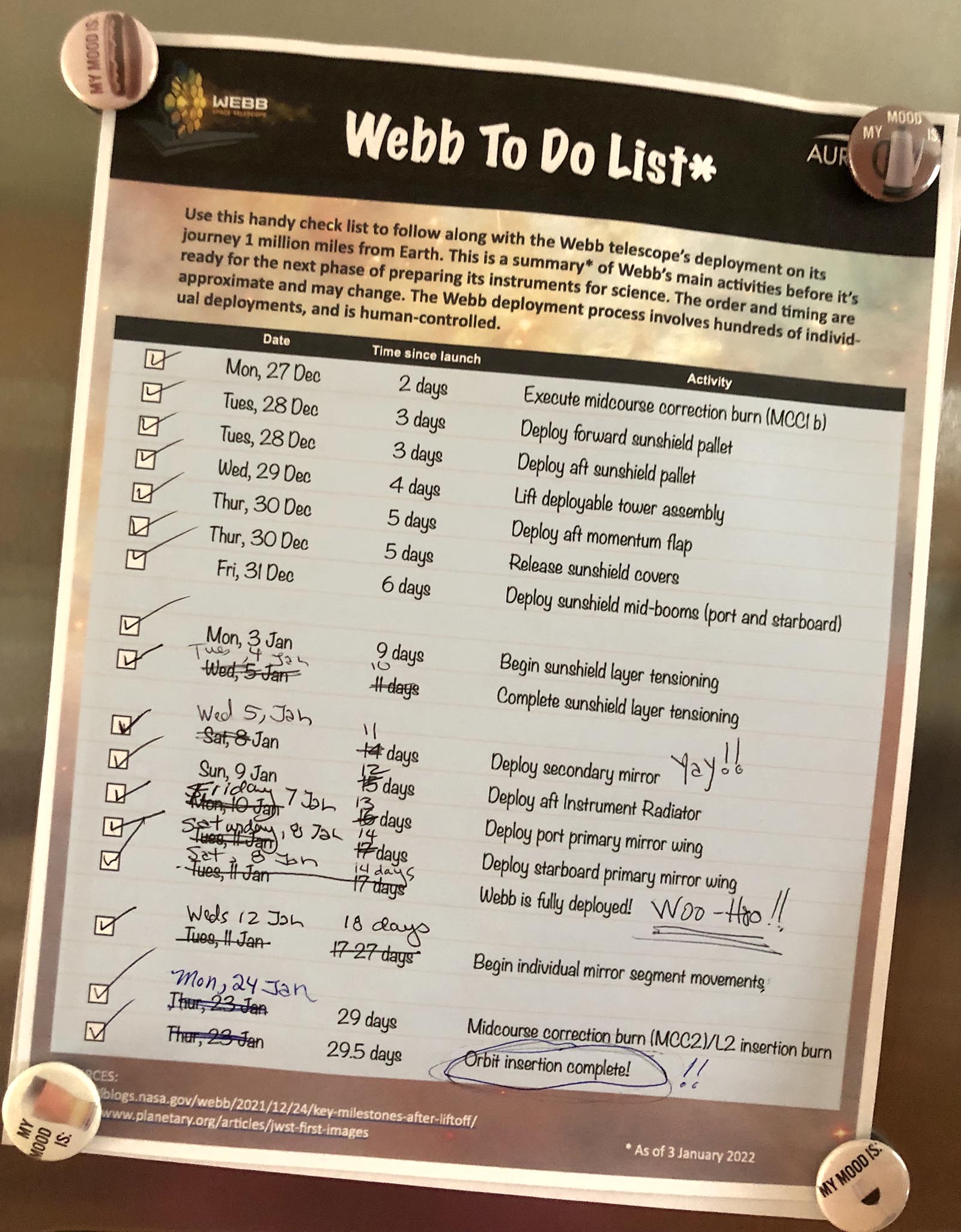 Today Webb concluded a month of incredible achievements, and we checked off the last box on our deployment "To Do List." Webb's last deployment activity, insertion into L2 orbit, is now complete. Although there are many more achievements to look forward to, let's take a moment to review what the Webb teams accomplished so far.
On December 25th Webb launched into space on top of ESA's Ariane 5 rocket folded up like a moth in a cocoon. As we watched Webb separate from the rocket, we were able to witness its first deployment activity, unfolding of the solar panels.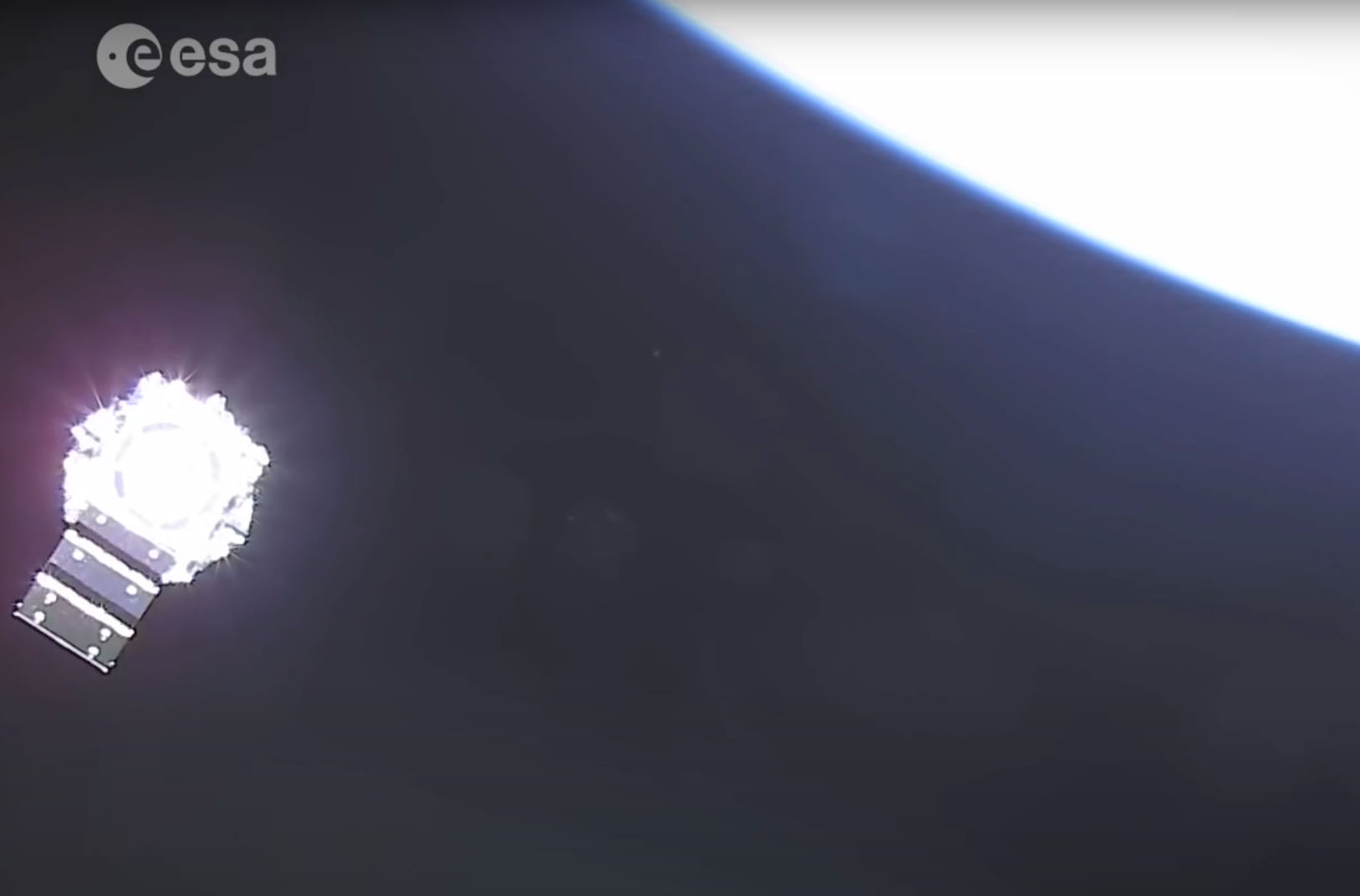 We later learned that Ariane 5's delivery of Webb on its trajectory was so precise, there is now enough fuel to extend the life of the telescope. Thanks ESA, this was a fantastic beginning to the mission!
After the solar panels deployed, a mid-course correction burn was executed. This engine firing sent Webb on the right track to its destination at L2.
The team working at the Mission Operations Center (MOC) at AURA's Center Space Telescope Science Institute (STScI) then slowly lifted the mirror tower to make room for Webb's sunshield, which deployed next.
Engineers spent many years perfecting Webb's sunshield technology. Its requirements were daunting. Not only did it need to keep Webb's mirrors and instruments incredibly cold, but it also had to be very lightweight and deployable from a folded position. The sunshield was one of the riskiest of Webb's deployments. It simply had never been done before. Amazingly, the sunshield deployed perfectly and is functioning as planned.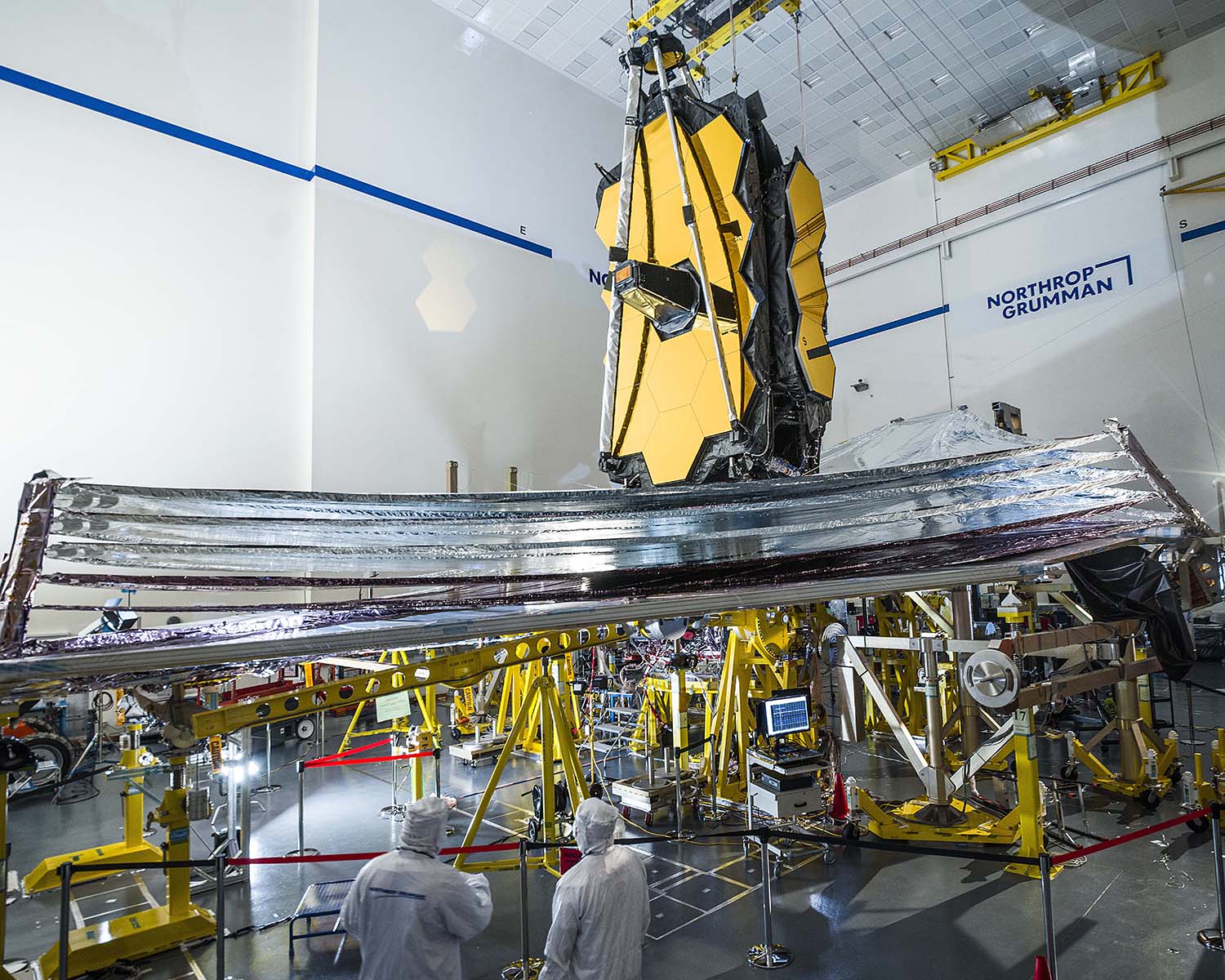 Gregory L. Robinson, Webb's program director at NASA Headquarters, perhaps said it best in the NASA blog, "Unfolding Webb's sunshield in space is an incredible milestone, crucial to the success of the mission. Thousands of parts had to work with precision for this marvel of engineering to fully unfurl. The team has accomplished an audacious feat with the complexity of this deployment – one of the boldest undertakings yet for Webb."
The next critical deployment was Webb's secondary mirror, which had to unfold on long arms to take its place in front of Webb's main mirror. The secondary mirror captures the light collected by the primary mirror and sends it to the instruments for processing. Without the secondary mirror there can be no science, but its deployment was executed by the MOC teams without a hitch and the scientists breathed a sigh of relief.
Webb project manager Bill Ochs called it, "another banner day for JWST."The last major deployment was the unfolding of Webb's two mirror wings to complete its 6.5-meter mirror. As the last one was locked into place, the teams in the MOC at STScI celebrated.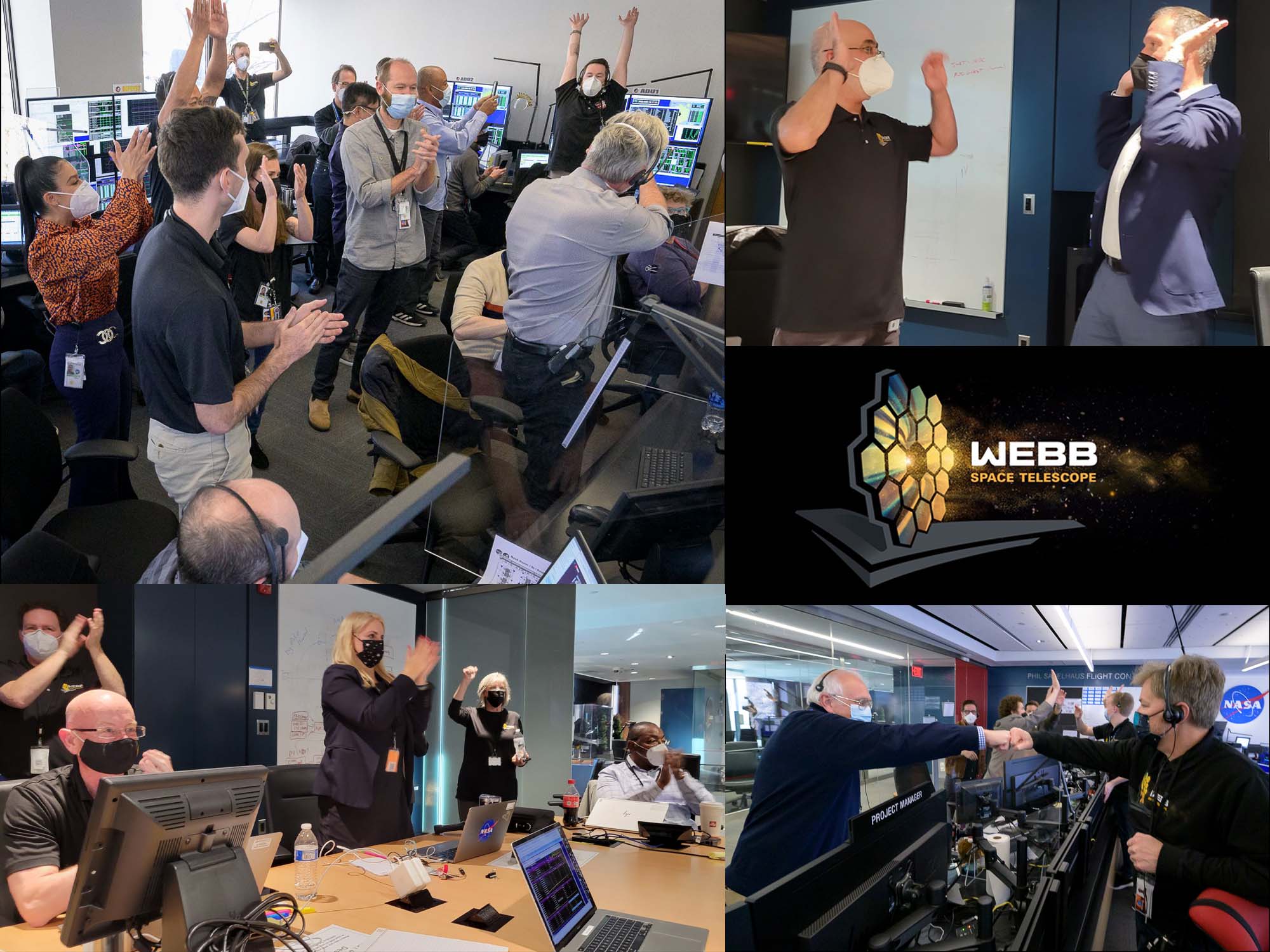 Over the last week Webb's 18 hexagonal mirror segments were raised from their stowed position to their operational height. After today's insertion into L2 orbit, the Webb telescope is now ready for its 5-month long commissioning period.
Ken Sembach, Director of STScI, said of this latest achievement, "Looking back on the past several weeks and taking stock of the entirety of what has been accomplished so far, one can't help being a bit awed by the apparent simplicity of Webb's complex deployments. This has by no means been simple – underlying the choreographed sequence of commissioning events are great skill, dedication, coordination, and practice. Seeing the care and teamwork involved in performing each of the hundreds of steps necessary to ensure that Webb achieves its goals is both humbling and inspiring."
We send out a huge thank you to all of the Webb teams, you are amazing!
Now onto mirror and instrument commissioning… stay tuned for more excitement to come!