AURA enables astrophysics breakthroughs by creating and sharing universal access to world-class facilities.
Our Mission: AURA provides innovative, open resources to enable discovery and excellence in research, to unify the astrophysics communities, and to promote public understanding of our universe and the benefits of scientific exploration.
The Association of Universities for Research in Astronomy (AURA), founded in 1957, is a consortium of 49 US institutions and 3 international affiliates. Although it began as a small organization with just eight founding members, AURA is now a thriving scientific institution with 52 members and over 1,700 employees.
AURA's role is to establish, nurture, and promote public observatories and facilities that advance innovative astronomical research. In addition, AURA is deeply committed to public and educational outreach, and to diversity throughout the astronomical and scientific workforce.
AURA's Centers
AURA manages world-class astronomical Centers for the National Science Foundation (NSF) and NASA. 
For NSF, AURA manages NOIRLab, located in Tucson Arizona, La Serena, Chile and Hilo, Hawai'i, and the National Solar Observatory (NSO) located in Boulder Colorado and Maui, Hawai'i. 
NOIRLab is the preeminent US national center for ground-based, nighttime optical and infrared astronomy. Through its five programs — Cerro Tololo Inter-American Observatory (CTIO), the Community Science and Data Center (CSDC), the international Gemini Observatory, Kitt Peak National Observatory (KPNO) and the Vera C. Rubin Observatory (now under construction) — NOIRLab serves as a focal point for community development of innovative scientific programs, the exchange of ideas, and creative development.
NSO is the national research center for ground-based solar physics in the United States. It supports facilities to provide forefront observational opportunities for the solar research community. NSO leads the operation of the Daniel K. Inouye Solar Telescope on Maui in Hawaii, the Synoptic Optical Long-term Investigations of the Sun (SOLIS), and the Global Oscillation Network Group (GONG).
For NASA, AURA manages the Space Telescope Science Institute (STScI).
STScI is a multi-mission operations center for NASA's flagship observatories and a world-class astronomical research center. Since its launch in 1990, STScI has performed the science operations for Hubble, which continues to revolutionize astronomy and expand our knowledge of the Universe. STScI also leads the science and mission operations for the James Webb Space Telescope (JWST), which launched on December 25, 2021.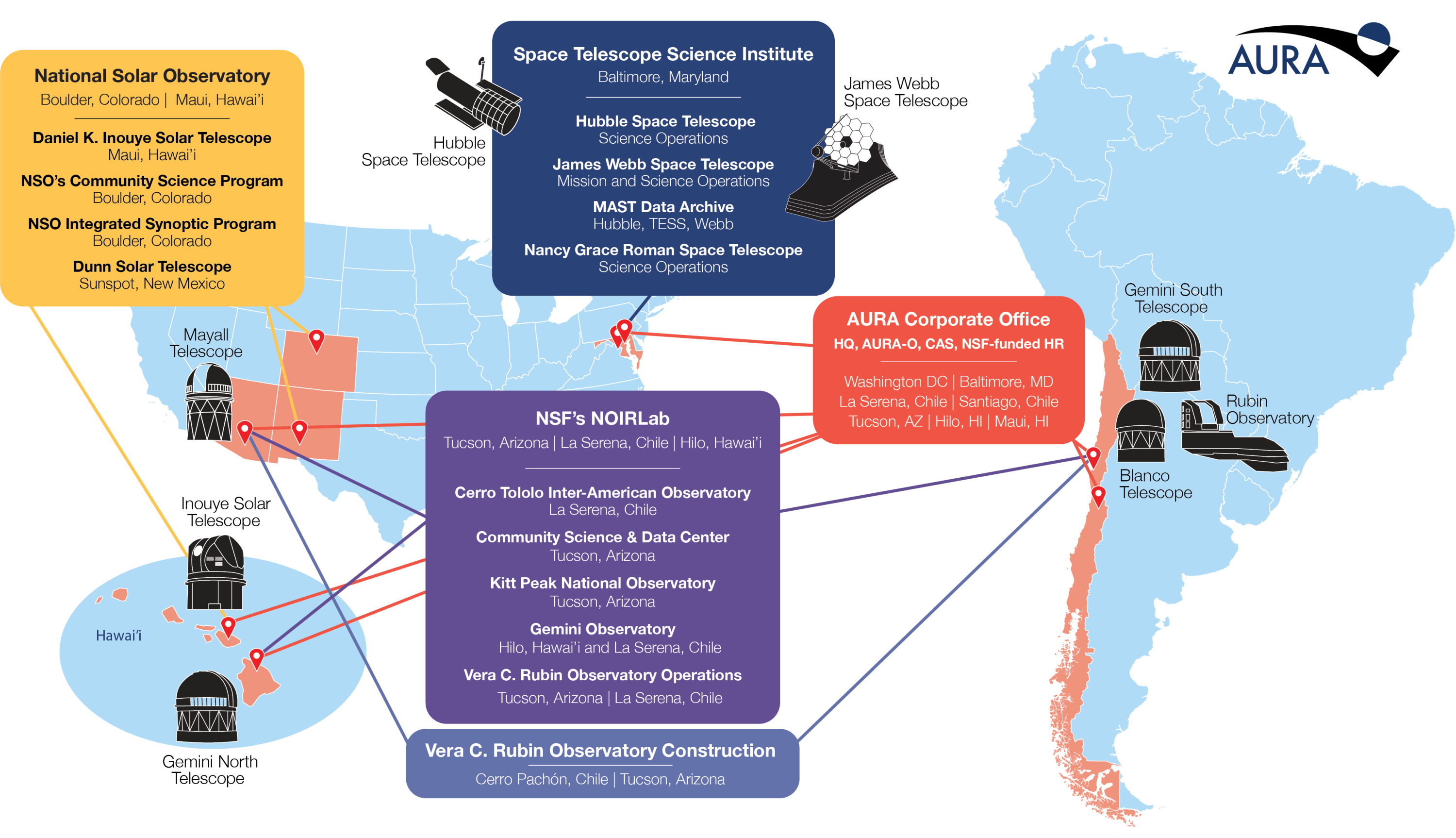 Diverse, Equitable, and Inclusive Workplaces
AURA is committed to the people that support our mission to advance astronomy. We are deeply invested in developing and improving our policies and practices to create a welcoming work environment, and we believe that a diverse and inclusive workforce contributes to excellence both in our organization and in the scientific community as a whole.
As a leader in the astronomical community, AURA develops and supports programs that advance our organizational commitment to broaden participation, to encourage diversity and inclusion throughout the astronomical scientific workforce, and to engage with Indigenous communities.
Future of Astronomy
Looking to the future, AURA fully supports the scientific vision of Pathways to Discovery in Astronomy and Astrophysics for the 2020s, and joins with our community to advocate for its recommendations and highest prioritized scientific goals: "Pathways to Habitable Worlds, New Windows on the Dynamic Universe, and Unveiling the Drivers of Galaxy Growth." As the operational home for observatories spread across the globe and in space, we stand ready to build on our experience and assist our community to implement the Pathways to Discovery recommendations for both ground- and space-based astronomy.
We also work with community members to continue and enhance our programs in alignment with Decadal recommendations, promote sustainable practices to combat climate change, and coordinate with our partners in the preservation of dark and quiet skies. Through NOIRLab we will continue a leading role in assessing impacts of satellite constellations on astronomy.
Since 1957 AURA has enabled discovery with world-class astronomical observatories and data, unified astrophysics communities, and promoted public engagement and understanding of our universe. We look forward to amazing discoveries ahead.
Leadership
AURA leadership is committed to creating a world in which astrophysics discovery inspires and engages all of humanity.
Governance
The AURA Board establishes policies, approves its budget, and elects members of the Management Councils.
Membership
There are 49 U.S. Institutions and 3 International Affiliate Members which comprise the Member Institutions of AURA.