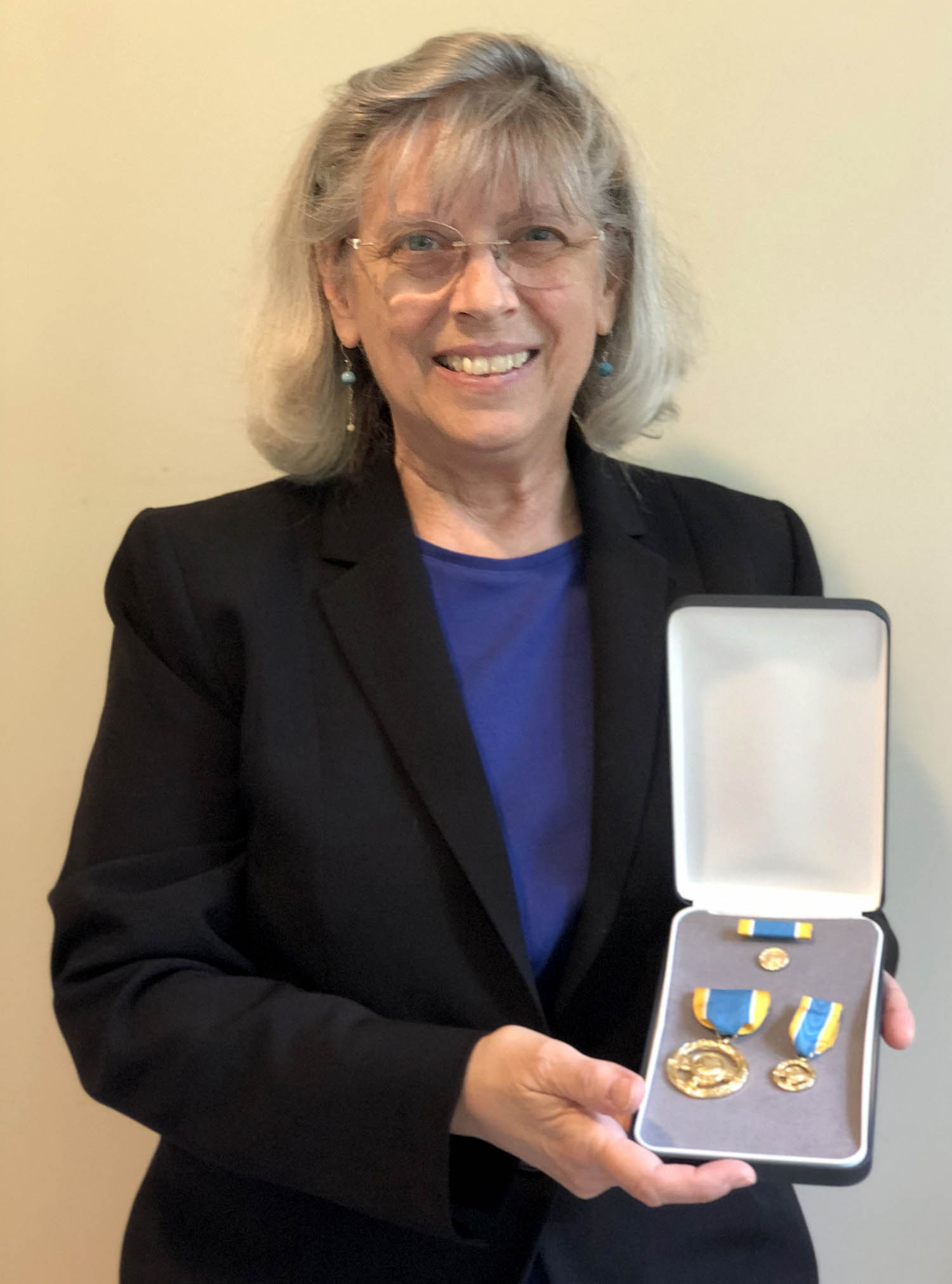 Dr. Heidi Hammel recieved an Exceptional Public Service Medal and a Group Achievement Award from NASA.
NASA has awarded an Exceptional Public Service Medal to Dr. Heidi Hammel, AURA Vice President for Science, Interdisciplinary Scientist for the James Webb Space Telescope (JWST), and Vice President of the Board of Directors of the Planetary Society. She was awarded the medal for an exemplary career in service to NASA and to the planetary science community.
The Agency Honor Awards are NASA's most prestigious form of recognition and are presented to individuals and teams who have distinguished themselves by making outstanding contributions to the Agency's mission.
Hammel primarily studies outer planets; she served on the imaging team for the Voyager 2 Neptune encounter and studied Uranus and Neptune extensively with Hubble and other facilities. She also led the Hubble Team that investigated Jupiter's atmospheric response to the impact of Comet Shoemaker-Levy 9 in 1994.
More recently Dr. Hammel, as a JWST Interdisciplinary Scientist, dedicated all of her guaranteed time to the solar-system community and in particular to early career scientists. She solicited input broadly from the community to create a comprehensive scientific program that would provide maximum science benefit, waiving all proprietary time for the data so that the solar-system researchers have immediate access.
"I am honored to receive this prestigious award," said Hammel. "My work with NASA has been pivotal throughout my career and opened doors to new opportunities."
Dr. Hammel has been recognized for both her science and her work in public outreach, including the American Astronomical Society's Sagan Medal and the San Francisco Exploratorium's Public Understanding of Science Award. In 2020 she received the American Astronomical Society's Masursky Award for outstanding service to planetary science and exploration. Asteroid "1981 EC20" was renamed 3530 Hammel in her honor.
"I am thrilled to announce this award for Heidi Hammel recognizing her years of untiring contributions to solar system science at NASA," said Dr. Nicola J. Fox, Associate Administrator for Science at NASA. "Her generous support of the solar system community continues to expand our knowledge of the mysteries of our home system."
Heid Hammel also received a Group Achievement Award for her work with the JWST Science Working Group.
NASA's Exceptional Public Service Medal is a United States government medal awarded to any non-government individual or to an individual who was not a government employee during the period in which the service was performed for sustained performance that embodies multiple contributions on NASA projects, programs, or initiatives.