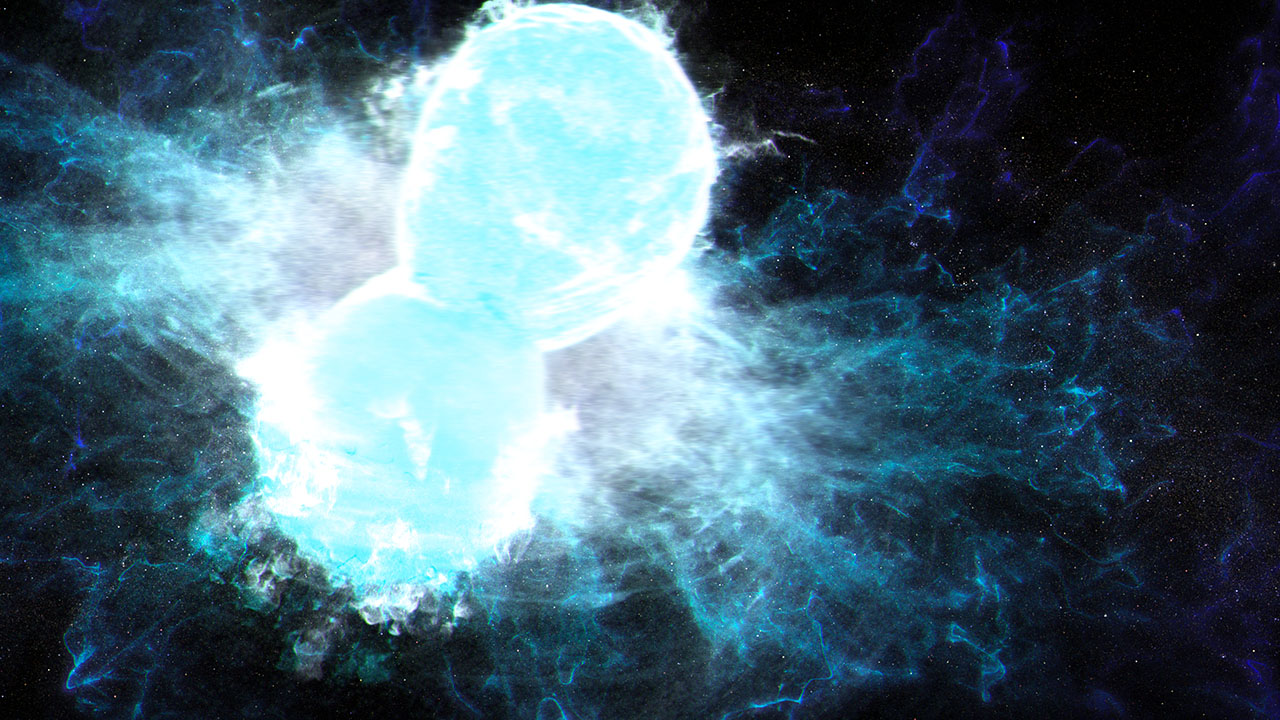 What happens when the densest, most massive stars – that are also super small – collide? They send out brilliant explosions known as kilonovae. Think of these events as the universe's natural fireworks. Theorists suspect they periodically occur all across the cosmos – both near and far. Scientists will soon have an additional observatory to help follow up on and even scout these remarkable events: NASA's Nancy Grace Roman Space Telescope, which is set to launch by May 2027.
The key actors in kilonovae are neutron stars, the central cores of stars that collapsed under gravity during supernova explosions. They each have a mass similar to the Sun, but are only about 6 miles (10 kilometers) in diameter. And when they collide, they send out debris moving near the speed of light. These explosions are also thought to forge heavy elements, like gold, platinum, and strontium (which gives actual fireworks their stunning reds). Kilonovae shoot those elements across space, potentially allowing them to end up in rocks forming the crust of terrestrial planets like Earth.
The astronomical community captured one of these remarkable kilonova events in 2017. Scientists at the National Science Foundation's Laser Interferometer Gravitational-Wave Observatory (LIGO) detected the collision of two neutron stars first with gravitational waves – ripples in space-time. Almost simultaneously, NASA's Fermi Gamma-ray Space Telescope detected high-energy light. NASA quickly pivoted to observe the event with a broader fleet of telescopes, and captured the fading glow of the blast's expanding debris in a series of images.
But the players in this example collided practically in our "backyard," at least in astronomical terms. They lie only 130 million light-years away. There must be more kilonovae – and many that are farther flung – dotting our ever-active universe.
"We don't yet know the rate of these events," said Daniel M. Scolnic, an assistant professor of physics at Duke University in Durham, North Carolina. Scolnic led a study that estimates the number of kilonovae that could be discovered by past, present, and future observatories including Roman. "Is the single kilonova we identified typical? How bright are these explosions? What types of galaxies do they occur in?" Existing telescopes can't cover wide enough areas or observe deeply enough to find more distant examples, but that will change with Roman.