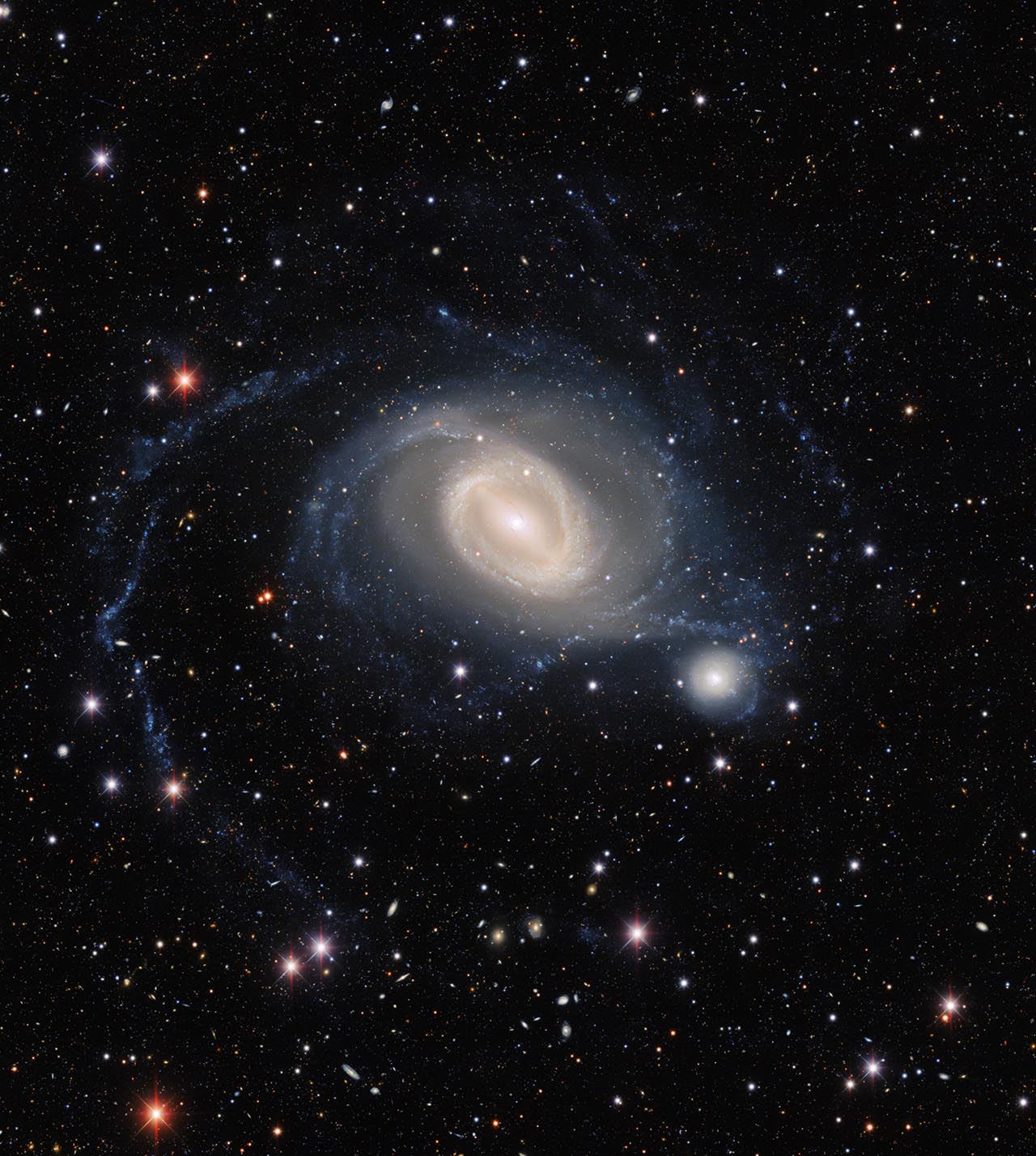 The interacting galaxy pair NGC 1512 and NGC 1510 take center stage in this image from the US Department of Energy-fabricated Dark Energy Camera, a state-of-the-art wide-field imager on the Víctor M. Blanco 4-meter Telescope at Cerro Tololo Inter-American Observatory, a Program of NSF's NOIRLab. NGC 1512 has been in the process of merging with its smaller galactic neighbor for 400 million years, and this drawn-out interaction has ignited waves of star formation.
The barred spiral galaxy NGC 1512 (left) and its diminutive neighbor NGC 1510 were captured in this observation from the Víctor M. Blanco 4-meter Telescope. As well as revealing the intricate internal structure of NGC 1512, this image shows the wispy outer tendrils of the galaxy stretching out and appearing to envelop its tiny companion. The starry stream of light that connects the two galaxies is evidence of the gravitational interaction between them — a stately and graceful liaison that has been going on for 400 million years. NGC 1512 and NGC 1510's gravitational interaction has affected the rate of star formation in both galaxies as well as distorting their shapes. Eventually, NGC 1512 and NGC 1510 will merge into one larger galaxy — a drawn-out example of galactic evolution.
These interacting galaxies lie in the direction of the constellation of Horologium in the southern celestial hemisphere and are around 60 million light-years from Earth. The wide field of view of this observation shows not only the intertwined galaxies, but also their star-studded surroundings. The frame is populated with bright foreground stars within the Milky Way and is set against a backdrop of even more distant galaxies.
NOIRLab is managed by AURA under a cooperative agreement with the National Science Foundation (NSF).