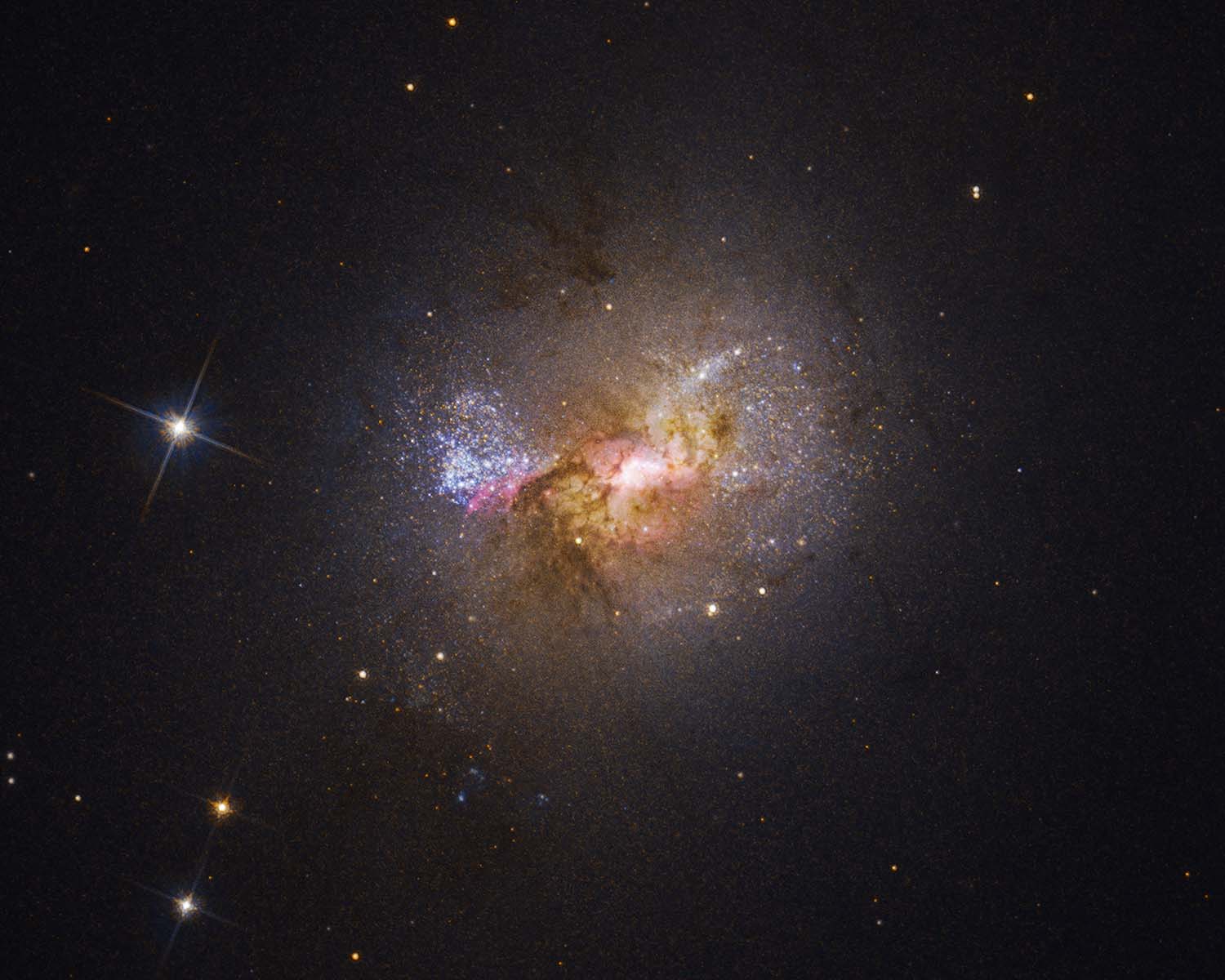 Often portrayed as destructive monsters that hold light captive, black holes take on a less villainous role in the latest research from NASA's Hubble Space Telescope. A black hole at the heart of the dwarf galaxy Henize 2-10 is creating stars rather than gobbling them up. The black hole is apparently contributing to the firestorm of new star formation taking place in the galaxy. The dwarf galaxy lies 30 million light-years away, in the southern constellation Pyxis.
A decade ago this small galaxy set off debate among astronomers as to whether dwarf galaxies were home to black holes proportional to the supermassive behemoths found in the hearts of larger galaxies. This new discovery has little Henize 2-10, containing only one-tenth the number of stars found in our Milky Way, poised to play a big part in solving the mystery of where supermassive black holes came from in the first place.
"Ten years ago, as a graduate student thinking I would spend my career on star formation, I looked at the data from Henize 2-10 and everything changed," said Amy Reines, who published the first evidence for a black hole in the galaxy in 2011 and is the principal investigator on the new Hubble observations, published in the January 19 issue of Nature.
"From the beginning I knew something unusual and special was happening in Henize 2-10, and now Hubble has provided a very clear picture of the connection between the black hole and a neighboring star forming region located 230 light-years from the black hole," Reines said.
That connection is an outflow of gas stretching across space like an umbilical cord to a bright stellar nursery. The region was already home to a dense cocoon of gas when the low-velocity outflow arrived. Hubble spectroscopy shows the outflow was moving about 1 million miles per hour, slamming into the dense gas like a garden hose hitting a pile of dirt and spreading out. Newborn star clusters dot the path of the outflow's spread, their ages also calculated by Hubble.
This is the opposite effect of what's seen in larger galaxies, where material falling toward the black hole is whisked away by surrounding magnetic fields, forming blazing jets of plasma moving at close to the speed of light. Gas clouds caught in the jets' path would be heated far beyond their ability to cool back down and form stars. But with the less-massive black hole in Henize 2-10, and its gentler outflow, gas was compressed just enough to precipitate new star formation.