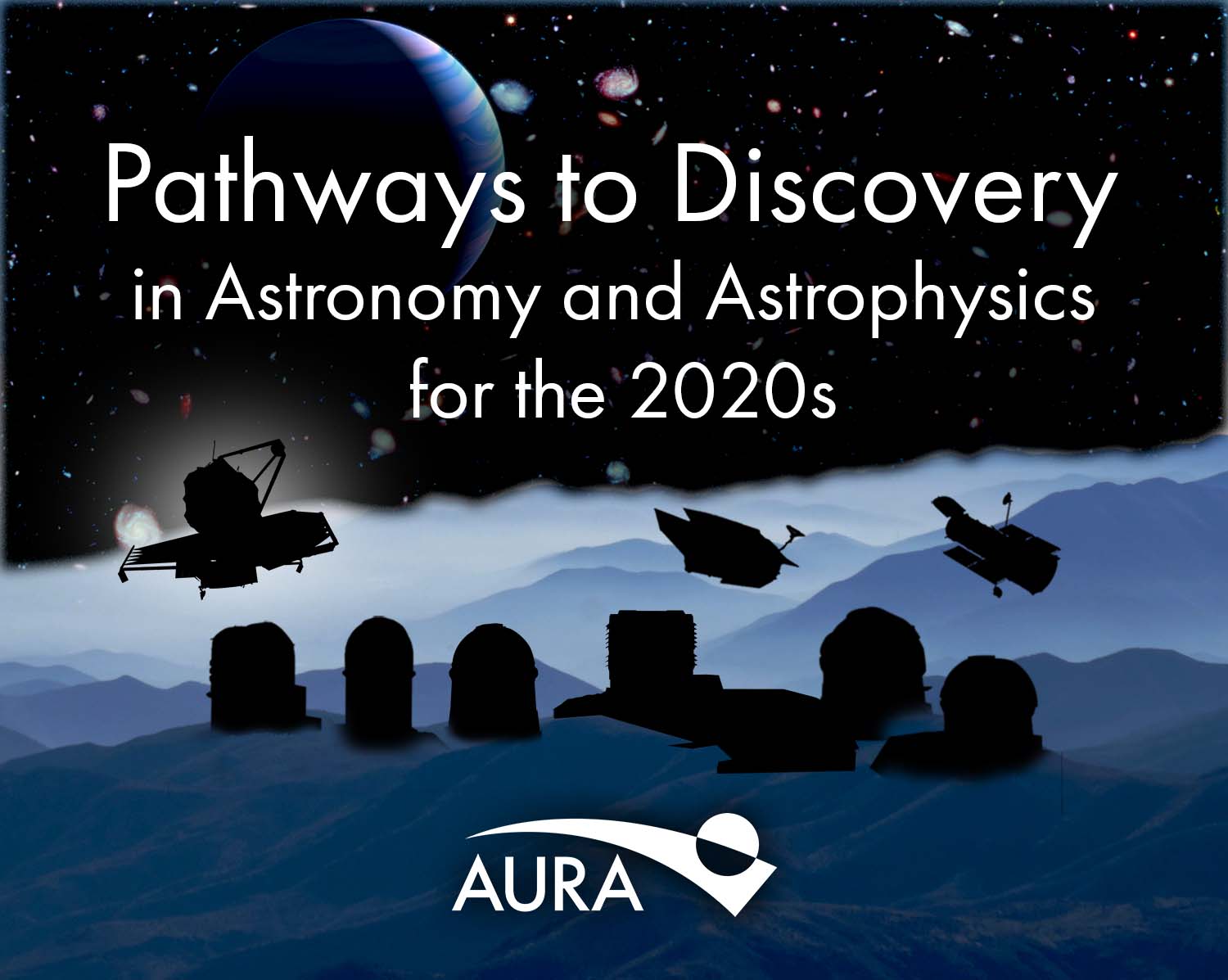 The Association of Universities for Research in Astronomy (AURA) fully supports the scientific vision of Pathways to Discovery in Astronomy and Astrophysics for the 2020s, and joins with our community to advocate for its recommendations and highest prioritized scientific goals: "Pathways to Habitable Worlds, New Windows on the Dynamic Universe, and Unveiling the Drivers of Galaxy Growth."
We are thankful to the National Academies of Science, Engineering, and Medicine for leading the Pathways to Discovery decadal survey process, and especially the members of the Steering Committee and Panels for contributing their time to this visionary report.
AURA enables discovery with world-class astronomical observatories and data, unifies astrophysics communities, and promotes public engagement and understanding of our Universe. As the operational home for these observatories spread across the globe and in space, we stand ready to build on our experience and assist our community to implement the Pathways to Discovery recommendations for both ground- and space-based astronomy.
Recommendations for Space-based Missions
In its 40 years of existence, the Space Telescope Science Institute (STScI), operated by AURA, has become a world-class research, engineering, and service organization with a responsibility to support the astronomical community with revolutionary observatories and data archives. STScI provides the science community interface for the Hubble Space Telescope, hosts the Mission Operations Center of the James Webb Space Telescope, is the Science Operations Center for the Nancy Grace Roman Space Telescope, and operates a world-class multi-mission science data archive, the Barbara A. Mikulski Archive for Space Telescopes, that spans missions from CubeSats to flagships. We support the Pathways to Discovery space-based recommendations with our unique combination of science mission experience and data archives.
AURA applauds the bold scientific vision embodied in the Pathways to Discovery recommendation to embark on an ambitious program of multiwavelength space telescopes. With a nod to the impact of the original Great Observatories, we now anticipate a new fleet of space observatories beginning with a large (~6-m aperture) infrared/optical/ultraviolet (IR/O/UV) space telescope that will search for signatures of life on planets outside the Solar System, and perform transformative astrophysics. With AURA/STScI's four decades of direct experience operating Hubble and our experience with Webb mission operations, we are ready to work with NASA, our community, industrial partners, and other stakeholders in developing these missions and enabling their discovery potential to revolutionize astronomy in the 21st century.
Recommendations for Ground-based Night-time Projects
The Astrophysics Decadal Surveys have a rich history of driving technological innovation and expanding scientific boundaries in ground-based astronomy, and AURA is proud to be part of that story. For example, in 2010 the Astrophysics Decadal Survey recommended creating a new US Center for ground-based night-time astronomy. As a result of that recommendation AURA's Center, NSF's NOIRLab, was established. It now unifies the international Gemini Observatory, Kitt Peak National Observatory, Cerro Tololo Inter-American Observatory, the Community Science and Data Center, and the Vera C. Rubin Observatory operations (Rubin's construction was also a 2010 decadal recommendation).
We look forward to continuing this tradition with the next generation of facilities via NOIRLab's US-ELT Program — the highest recommended ground-based project in Pathways to Discovery. AURA/NOIRLab joins our community in advocating for and contributing to the implementation of the Survey recommendations to enable the decadal scientific themes.
NSF's NOIRLab was identified in Pathways to Discovery as a core partner of the highly recommended US Extremely Large Telescope Program (US-ELTP). The goal of the program is for NSF's NOIRLab to provide all astronomers in the US with nationally funded full-sky observing access to the Giant Magellan Telescope in the southern hemisphere and Thirty Meter Telescope in the northern hemisphere. The US-ELTP will enable collaborative, inclusive, and transformational research in nearly all areas of astrophysics — from understanding the fundamental nature of the Universe to the search for life on distant exoplanets. See US-ELTP's statement on Astro2020.
Astronomical Archives and Data Services
AURA's foundational mission is to provide all researchers with open access to world-class facilities for astronomical research, which includes telescopes and data archives together. We concur with the finding of Pathways to Discovery that well-supported data services and archives maximize scientific impact, and are essential for inclusion of the broadest possible community of scientists in astronomical research.
AURA supports the Pathways to Discovery recommendations for robust support for the operation and development of astronomical archives and data services. These systems represent critical infrastructure for enabling astronomical discovery.
Through its management of the space-based observatories AURA has led the development of state-of-the-art science-ready data archives. AURA has also pioneered the development of online platforms that enable science with large ground-based survey data sets. AURA supports the Pathways to Discovery recommendation to develop a plan for software pipelines that deliver science-ready data products across all general-purpose ground-based observatories, and for making those data products widely accessible to the community.
As noted in Pathways to Discovery, the existing federally-funded data archives are essential for astronomical research. AURA supports the Pathways to Discovery recommendation to improve coordination among these data archive centers and to create a nexus for interacting with the international archive communities. Providing rich, coordinated access and expert support to astronomy's many valuable data sets across wavelengths and among ground- and space-based facilities can enable new discoveries that are not possible otherwise.
AURA supports the Pathways to Discovery recommendation to establish a mechanism of associated research funding for data analysis and production of high-level data products for large principal-investigator-led programs on large-scale astronomical facilities in order to accelerate the scientific output and maximize the timeliness and community impact of these key large projects.
Foundations of the Profession
AURA is committed to the people that support our mission to advance astronomy. We are deeply invested in developing and improving our policies and practices to create a welcoming work environment, and we believe that a diverse and inclusive workforce contributes to excellence both in our organization and in the scientific community as a whole.
We are privileged to conduct research on I'oligam Du'ag (Kitt Peak) in Arizona, on Maunakea, Maunaloa, and Haleakalā in Hawaiʻi, and on Cerro Tololo and Cerro Pachón in Chile. We acknowledge the Tohono O'odham Nation, the Native Hawaiian communities, and the Indigenous communities in Chile, respectively, as original stewards of these lands. AURA supports the recommendation to work with representatives from local communities to define a model of engagement that respects, empowers, and benefits local and Indigenous communities while advancing scientific research.
Pathways to Discovery clearly articulates there is much work to be done to improve astronomy's workforce diversity, stop harassment and discrimination in the workplace, and establish a respectful "Community Astronomy" model of engagement with Indigenous communities. AURA currently has in place policies that explicitly prohibit harassment and discrimination at our observational facilities and in our workplace.
The survey supports the use of dual-anonymous procedures as part of the proposal merit review process; this is already implemented for Hubble and Webb at the Space Telescope Science Institute, and is being adopted across all AURA's Centers.
As a leader in the astronomical community, AURA develops and supports programs that advance our organizational commitment to broaden participation, to encourage diversity and inclusion throughout the astronomical scientific workforce, and to engage with Indigenous communities. We will work with community members to continue and enhance our programs in alignment with Decadal recommendations, promote sustainable practices to combat climate change, and coordinate with our partners in the preservation of dark and quiet skies. NOIRLab will continue its leading role in assessing impacts of satellite constellations on astronomy and on the human experience of the night sky.
Looking forward
AURA will review the Pathways to Discovery report and its recommendations with our Board, governance councils, and Member Institutions, as well as our government and industrial partners. We recognize the vision set out by this decadal survey is only one step in developing these projects and look forward to participating in the implementation of these exciting ideas.
AURA again thanks the National Academies of Science, Engineering, and Medicine for leading Pathways to Discovery in Astronomy and Astrophysics for the 2020s, and all the members of our community who served on panels, contributed inputs, and devoted significant time to the Decadal Survey process. For more than six decades the Decadal Surveys have articulated a consensus vision for our field, and we are deeply grateful to all those who have led and participated in this vital work.
###
Contact
Shari Lifson
AURA Communications Coordinator
slifson@aura-astronomy.org
---
The Association of Universities for Research in Astronomy (AURA) apoya plenamente la visión científica de Pathways to Discovery in Astronomy and Astrophysics for the 2020s, y se une a nuestra comunidad para defender sus recomendaciones y objetivos científicos de mayor prioridad: "Pathways to Habitable Worlds, New Windows on the Dynamic Universe, and Unveiling the Drivers of Galaxy Growth".
Agradecemos a las Academias Nacionales de Ciencias, Ingeniería y Medicina por liderar el proceso del estudio decadal Pathways to Discovery, y especialmente a los miembros del Comité Directivo y los Paneles por contribuir con su tiempo a este informe visionario.
AURA permite el descubrimiento con observatorios y datos astronómicos de clase mundial, unifica las comunidades astrofísicas y promueve la participación pública y la comprensión de nuestro Universo. A medida que el hogar operativo de estos observatorios se extiende por todo el mundo y en el espacio, estamos listos para aprovechar nuestra experiencia y ayudar a nuestra comunidad a implementar las recomendaciones de Pathways to Discovery para la astronomía terrestre y espacial. 
Recomendaciones para misiones espaciales
En sus 40 años de existencia, el Space Telescope Science Institute (STScI), operado por AURA, se ha convertido en una organización de investigación, ingeniería y servicios de clase mundial con la responsabilidad de apoyar a la comunidad astronómica con observatorios y archivos de datos revolucionarios. STScI proporciona la interfaz de la comunidad científica para el Telescopio Espacial Hubble, alberga el Centro de Operaciones de la Misión del Telescopio Espacial James Webb, es el Centro de Operaciones Científicas para el Telescopio Espacial Nancy Grace Roman y opera un archivo de datos científicos de misiones múltiples de clase mundial, el Archivo Barbara A. Mikulski para telescopios espaciales, que abarca misiones desde CubeSats hasta misiones emblemáticas. Apoyamos las recomendaciones de Pathways to Discovery basadas en el espacio con nuestra combinación única de experiencia en misiones científicas y archivos de datos. 
AURA aplaude la audaz visión científica incorporada en la recomendación de Pathways to Discovery para embarcarse en un ambicioso programa de telescopios espaciales de múltiples longitudes de onda. Con un reconocimiento al impacto de los Grandes Observatorios, ahora anticipamos una nueva flota de observatorios espaciales que comenzará con un gran telescopio espacial infrarrojo / óptico / ultravioleta (IR / O / UV) (~ 6 m de apertura) que buscará signos de vida en planetas fuera del Sistema Solar y realizar astrofísica transformadora. Con las cuatro décadas de experiencia directa de AURA/STScI operando el Hubble y nuestra experiencia con las operaciones de la misión Webb, estamos listos para trabajar con la NASA, nuestra comunidad, socios industriales y otras partes interesadas en el desarrollo de estas misiones y habilitar todo su potencial de descubrimiento que revolucionará la astrofísica en el siglo XXI.
Recomendaciones para proyectos terrestres nocturnos
Los Estudios Decadales de Astrofísica tienen una rica historia de impulsar la innovación tecnológica y expandir los límites científicos en la astronomía terrestre, y AURA se enorgullece de ser parte de esa historia. Por ejemplo, en 2010, el Astrophysics Decadal Survey recomendó la creación de un nuevo Centro de EE. UU. Para la astronomía nocturna terrestre. Como resultado de esa recomendación, se estableció el Centro de AURA, NSF's NOIRLab. Ahora unifica las operaciones del Observatorio internacional Gemini, el Observatorio Nacional Kitt Peak, el Observatorio Interamericano Cerro Tololo, el Centro Comunitario de Ciencia y Datos y el Observatorio Vera C. Rubin (la construcción de Rubin también fue una recomendación decadal de 2010).
Esperamos continuar esta tradición con la próxima generación de instalaciones a través del programa US-ELT de NOIRLab, el proyecto terrestre más recomendado en Pathways to Discovery. AURA/NOIRLab se une a nuestra comunidad para defender y contribuir a la implementación de las recomendaciones del Estudio para habilitar los temas científicos decenales.
NOIRLab de NSF fue identificado en Pathways to Discovery como un socio principal del altamente recomendado Programa de Telescopios Extremadamente Grandes de (US-ELTP). El objetivo del programa es que NOIRLab de NSF proporcione a todos los astrónomos en los acceso de observación del cielo completo del Giant Magellan Telescope en el hemisferio sur y al Thirty Meter Telescope en el hemisferio norte. El US-ELTP permitirá la investigación sea colaborativa, inclusiva y transformadora en casi todas las áreas de la astrofísica, desde la comprensión de la naturaleza fundamental del Universo hasta la búsqueda de vida en exoplanetas distantes. Consulte la declaración de US-ELTP's statement on Astro2020.
Servicios de datos y archivos astronómicos
La misión fundamental de AURA es proporcionar a todos los investigadores acceso abierto a instalaciones de clase mundial para la investigación astronómica, que incluye tanto los telescopios como los archivos de datos . Coincidimos con el hallazgo de Pathways to Discovery de que los archivos y servicios de datos bien respaldados maximizan el impacto científico y son esenciales para la inclusión de la comunidad de científicos en la investigación astronómica.
AURA apoya la recomendacines de Pathways to Discovery para un soporte sólido para la operación y desarrollo de archivos astronómicos y servicios de datos. Estos sistemas representan una infraestructura crítica para permitir el descubrimiento astronómico.
A través de su gestión de los observatorios espaciales, AURA ha liderado el desarrollo de archivos de datos de última generación listos para la ciencia. AURA también ha sido pionera en el desarrollo de plataformas en línea que permiten la ciencia con grandes conjuntos de datos de estudios terrestres. AURA respalda la recomendación de Pathways to Discovery para desarrollar un plan de pipelines de software que entreguen productos de datos listos para la ciencia en todos los observatorios terrestres de propósito general, y para hacer que esos productos de datos sean ampliamente accesibles para la comunidad.
Como se señaló en Pathways to Discovery, los archivos de datos existentes financiados con fondos federales son esenciales para la investigación astronómica. AURA apoya la recomendación de Pathways to Discovery para mejorar la coordinación entre estos centros de archivo de datos y crear un nexo para interactuar con las comunidades de archivos internacionales. Proporcionar un acceso valioso y coordinado además del apoyo experto a los numerosos conjuntos de datos valiosos de la astronomía en las longitudes de onda y entre las instalaciones terrestres y espaciales, permite nuevos descubrimientos que de otro modo no serían posibles.
AURA apoya la recomendación de Pathways to Discovery para establecer un mecanismo de financiamiento de investigación asociado para el análisis de datos y la producción de productos de datos de alto nivel para grandes programas dirigidos por investigadores principales en instalaciones astronómicas a gran escala con el fin de acelerar la producción científica y maximizar la puntualidad e impacto comunitario de estos grandes proyectos clave.
Fundamentos de la Profesión
AURA está comprometida con las personas que apoyan nuestra misión de promover la astronomía. Estamos profundamente comprometidos en desarrollar y mejorar nuestras políticas y prácticas para crear un ambiente de trabajo acogedor, y creemos que una fuerza laboral diversa e inclusiva contribuye a la excelencia tanto en nuestra organización como en la comunidad científica en su conjunto.
Tenemos el privilegio de realizar una investigación sobre I'oligam Du'ag (Kitt Peak) en Arizona, en Maunakea, Maunaloa y Haleakalā en Hawaiʻi, y en Cerro Tololo y Cerro Pachón en Chile. Reconocemos a la Nación Tohono O'odham, las comunidades nativas hawaianas y las comunidades en Chile. AURA apoya la recomendación de trabajar con representantes de las comunidades locales para definir un modelo de participación que respete, empodere y beneficie a las comunidades locales al tiempo que avanza en la investigación científica.
Pathways to Discovery articula claramente que hay mucho trabajo por hacer para mejorar la diversidad de la fuerza laboral de la astronomía, detener el acoso y la discriminación en el lugar de trabajo y establecer un modelo respetuoso de "Astronomía comunitaria" de compromiso con las comunidades. Actualmente, AURA cuenta con políticas que prohíben explícitamente el acoso y la discriminación en nuestras instalaciones de observación y en nuestro lugar de trabajo.
El estudio respalda el uso de procedimientos de doble anonimato como parte del proceso de revisión de méritos de las propuestas; esto ya está implementado para Hubble y Webb en el Space Telescope Science Institute, y se está adoptando en todos los centros de AURA.
Como líder en la comunidad astronómica, AURA desarrolla y apoya programas que promueven nuestro compromiso organizacional de ampliar la participación, fomentar la diversidad y la inclusión en toda la fuerza laboral científica astronómica y comprometerse con las comunidades indígenas. Trabajaremos con los miembros de la comunidad para continuar y mejorar nuestros programas de acuerdo con las recomendaciones del Estudio, promover prácticas sostenibles para combatir el cambio climático y coordinar con nuestros socios en la preservación de los cielos oscuros. NOIRLab seguirá desempeñando un papel de liderazgo en la evaluación de los impactos de las constelaciones de satélites en la astronomía y en la experiencia humana del cielo nocturno.
Mirando hacia adelante
AURA revisará el informe Pathways to Discovery y sus recomendaciones con nuestra Junta, consejos e instituciones miembros, así como con nuestros socios gubernamentales e industriales. Reconocemos que la visión establecida por este estudio decadal es sólo un paso en el desarrollo de estos proyectos y esperamos participar en la implementación de estas interesantes ideas.
AURA nuevamente agradece a las Academias Nacionales de Ciencia, Ingeniería y Medicina por liderar Pathways to Discovery in Astronomy and Astrophysics for the decade of 2020, y a todos los miembros de nuestra comunidad que participaron en los paneles, contribuyeron con aportes y dedicaron un tiempo significativo al proceso del Estudio Decadal. Durante más de seis décadas, los Estudios Decadales han articulado una visión de consenso para nuestro campo, y estamos profundamente agradecidos a todos aquellos que han liderado y participado en este vital trabajo.