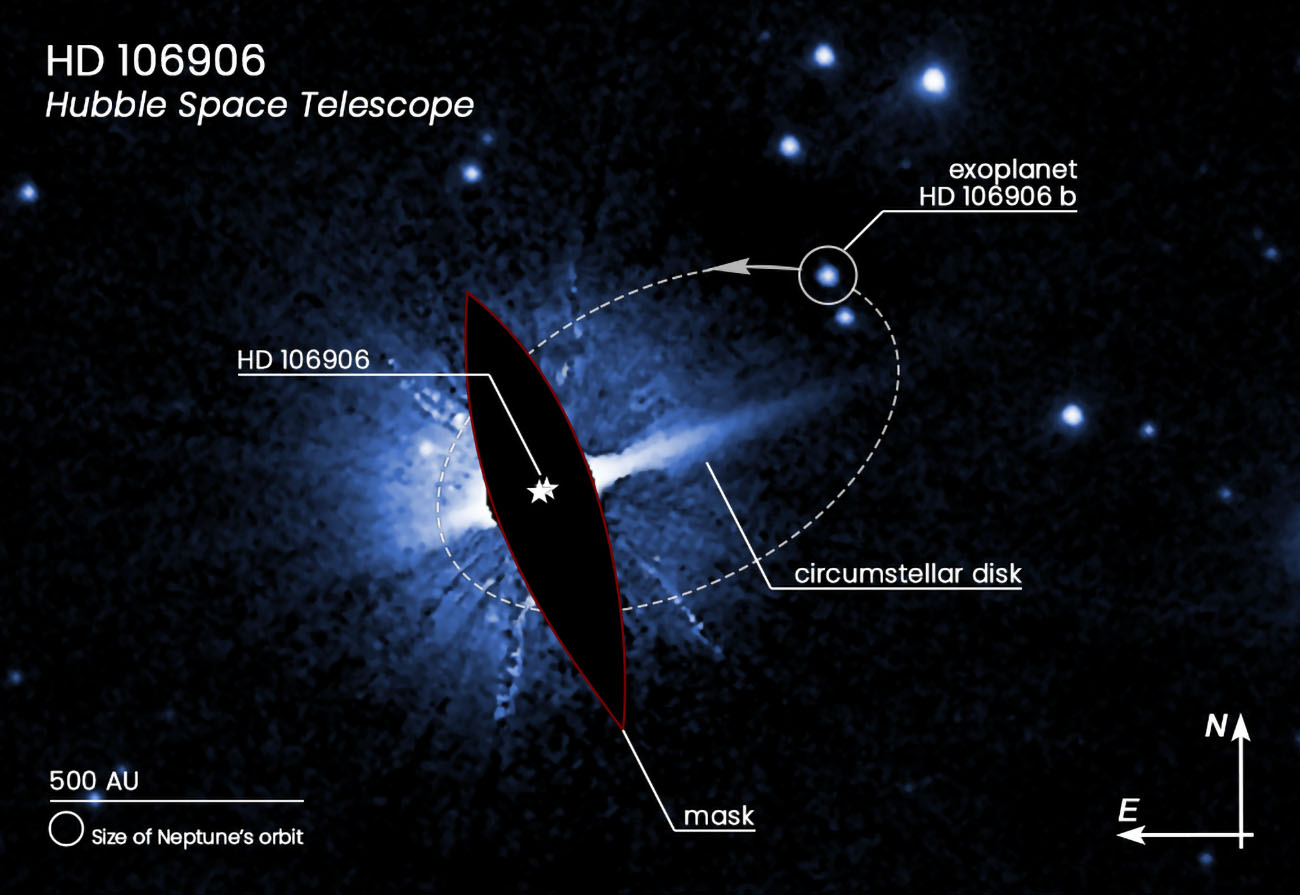 This Hubble Space Telescope image shows one possible orbit (dashed ellipse) of the 11-Jupiter-mass exoplanet HD 106906 b. This remote world is widely separated from its host stars, whose brilliant light is masked here to allow the planet to be seen. CREDITS:NASA, ESA, M. Nguyen (University of California, Berkeley), R. De Rosa (European Southern Observatory), and P. Kalas (University of California, Berkeley and SETI Institute)
Finding suggests that the long-sought Planet Nine—if it does exist—could have formed very early
Though every planet in our solar system has been visited by spacecraft over nearly the past 60 years, the outer frontier of the solar system, beyond Neptune, has been barely explored. There is circumstantial evidence that a planet five times Earth's mass – dubbed Planet Nine – may be lurking out there in the abyss. If real, it is creeping along a very wide orbit taking it 800 times farther from the Sun than Earth is. Though astronomers have yet to find this legendary world – if it exists at all – they have found another clue 336 light-years away.
Astronomers analyzing Hubble images of the double star, HD 106906, have discovered a planet in a huge 15,000-year-long orbit that sweeps it as far from its stellar duo as Planet Nine would be from our Sun. This is observational evidence that similarly far-flung worlds may exist around other stars. Researchers hypothesize that the planet wound up there in a game of planetary pinball where the gravitational pull of a passing star modified the orbit's shape. Perhaps a passing star had a similar influence on our solar system 4.6 billion years ago.
A planet in an unlikely orbit around a double star 336 light-years away may offer a clue to a mystery much closer to home: a hypothesized, distant body in our solar system dubbed "Planet Nine."
This is the first time that astronomers have been able to measure the motion of a massive Jupiter-like planet that is orbiting very far away from its host stars and visible debris disk. This disk is similar to our Kuiper Belt of small, icy bodies beyond Neptune. In our own solar system, the suspected Planet Nine would also lie far outside of the Kuiper Belt on a similarly strange orbit. Though the search for a Planet Nine continues, this exoplanet discovery is evidence that such oddball orbits are possible.
"This system draws a potentially unique comparison with our solar system," explained the paper's lead author, Meiji Nguyen of the University of California, Berkeley. "It's very widely separated from its host stars on an eccentric and highly misaligned orbit, just like the prediction for Planet Nine. This begs the question of how these planets formed and evolved to end up in their current configuration."
The system where this gas giant resides is only 15 million years old. This suggests that our Planet Nine—if it does exist—could have formed very early on in the evolution of our 4.6-billion-year-old solar system.