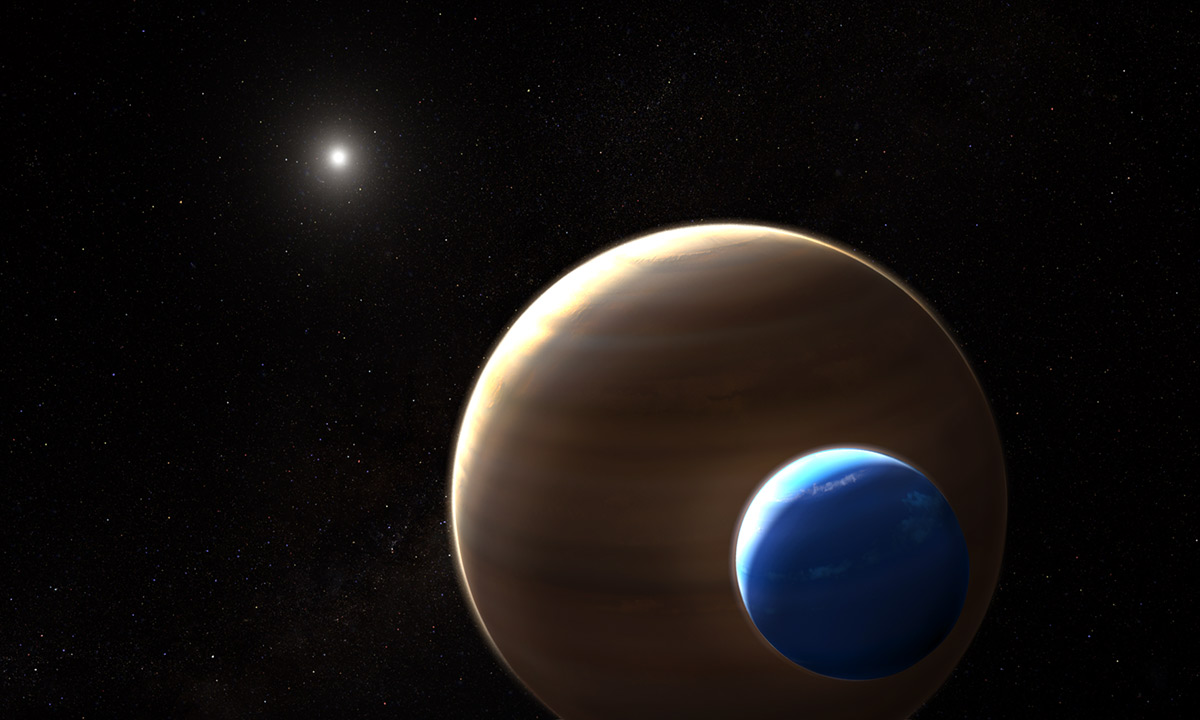 Artist's Illustration of Possible Moon Outside Our Solar System. Credit: NASA, ESA, and L. Hustak (STScI)
Neptune-sized satellite orbits a giant Jupiter around a sunlike star
Our solar system has eight major planets, and nearly 200 moons. Though astronomers have to date found nearly 4,000 planets orbiting other stars, no moons have yet been found. That hasn't been for any lack of looking, it's just that moons are smaller than planets and therefore harder to detect.
The Hubble and Kepler space telescopes found evidence for what could be a giant moon accompanying a gas-giant planet that orbits the star Kepler-1625, located 8,000 light-years away in the constellation Cygnus. The moon may be as big as Neptune and it orbits a planet several times more massive than Jupiter.
If our solar system is a typical example, moons may outnumber planets in our galaxy by at least an order of magnitude or more. This promises a whole new frontier for characterizing the nature of moons and their potential for hosting life as we know it.
The exomoon at Kepler-1625b is too far away to be directly photographed. Its presence is inferred when it passes in front of the star, momentarily dimming its light. Such an event is called a transit. However, the "footprint" of the moon's transit signal is weaker than for the host planet.
The researchers caution that the moon's presence will need to be conclusively proven by follow-up Hubble observations.